5-year-old boy calls 911 for McDonald's, so police officer delivers it for him
|
We all have days where we crave a certain type of food. Lord knows I've picked up the phone to dial for a pizza more times than I'm comfortable with admitting.
With that in mind, I can sort of sympathize with five-year-old Charlie Skabelund, who ended up calling 911 dispatches to order a McDonald's Happy Meal.
Sure, calling the emergency line for anything other than an emergency isn't something anyone should be doing, but since Charlie is five, we'd forgive the authorities for giving him a pass.
Not only did they do that, however, but they took things one step further: a police officer showed up at Charlie's door to hand him his Happy Meal.
In quite hilarious audio footage shard by the Mesa Police Department, young Charlie can be heard on the phone asking if he's speaking with McDonald's.
Dispatcher Anthony Bonilla asks him: "Do you have an emergency", to which Charlie replies: "One Mc-Happy Meal," before hanging up.
Listen to the following clip:
Bonilla called back after and spoke with Charlie's dad, who was no doubt panicking over what his son had done. Bonilla told him that an officer would be stopping by for a welfare check, and he'd be bringing a Happy Meal with him.
15 minutes later, Officer Randolph 'Scott' Valdez appeared at the house with a freshly ordered cheeseburger for little Charlie. He went to hand it over, only for the story to take one last cute twist …
It turned out the burger wasn't even for Charlie, but for his little sister, Jadyn.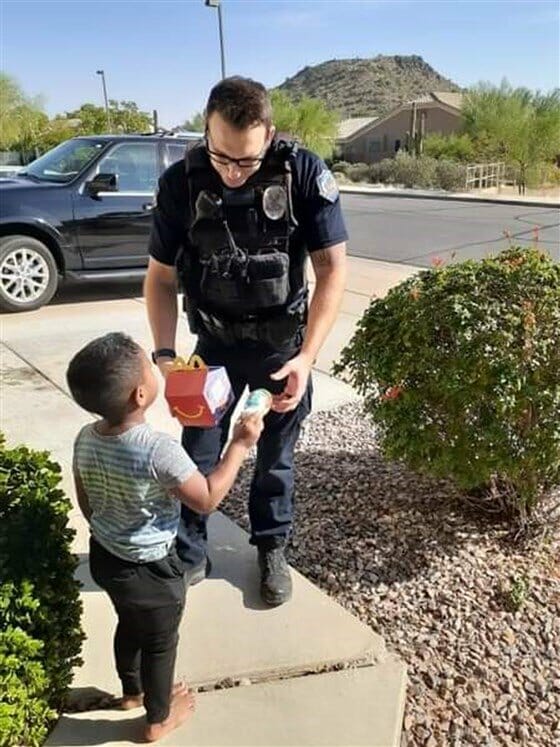 Speaking to Today, mom Kim said: "That's what Jadyn gets. Charlie only eats the chicken nuggets, he's always looking out for Jadyn."
Officer Valdez explained the rules of 911 to Charlie in a kind, easy-to-understand way. The pair then snapped a photo, which has quickly gone viral online.
Speaking on the mater with The Arizona Republic, Chief Ramon Batista said: "We are very proud of how Officer Valdez and Dispatcher Anthony Bonilla responded. They showed compassion and concern for a young Mesa community member and turned this encounter into a teaching moment.
"Officer Valdez took time with this young boy, to share the importance of 911 and its proper use for emergencies only.
"It's another example of the character and strength of our Mesa Police Department. It's our hope that this positive encounter with the Mesa Police Department will make a lasting impression with Charlie and the rest of our Mesa community."
Thank you, Officer Valdez and Dispatcher Anthony Bonilla, for reacting in a way that was both compassionate and educational!
Share this article if the story put a smile on your face. I know it put a huge one on mine.
Join our list
Subscribe to our mailing list and get interesting stuff and updates to your email inbox.