9-year-old raises money to buy 108 Thanksgiving dinners for families in need
|
A few years ago, Lisa Fischer suggested that her family take on a service project in their home of Charlotte, North Carolina. Everyone was on board, even her seven-year-old daughter, Alex.
Lisa did her research and the family settled on Charlotte Rescue Mission, a program that helps men and women who are addicted to drugs and/or alcohol.
The Fischers decided to contribute to the program's annual Thanksgiving drive.
"She was like one box is not enough, let's do ten," Lisa told WCNC.
That was a few years ago. This year, Alex, now 9, and her sister, Caroline, have already raised enough money to donate 108 boxes of Thanksgiving food.
"I think everybody should have a Thanksgiving meal with their families. A lot of people in Charlotte don't have Thanksgiving meals." 
When the family first started donating food to the Charlotte Rescue Mission's Thanksgiving food drive, Lisa suggested her daughter start a fundraiser.
"And so we were like, 'Ten is a lot. Why don't you see if you can raise some of the money to help pay for that food,'" Lisa said. "Just so that she could get an idea that food costs money, that it's not just a given for everybody."
Through fundraising, Alex quickly exceeded her goal and was motivated to continue her quest to help those in need.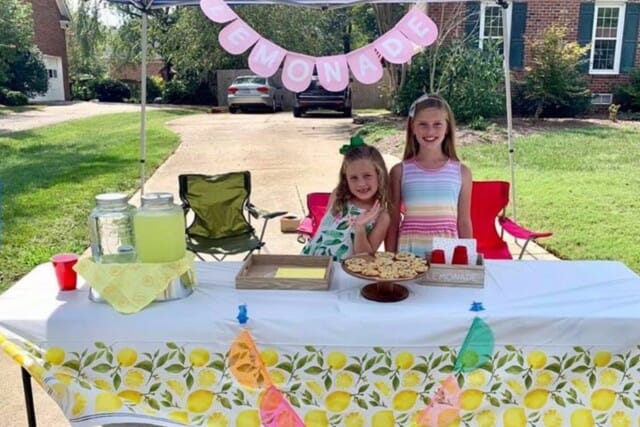 "Last year we decided to go even bigger and I thought our goal should be 101 boxes and we ended up donating 130 boxes," the nine-year-old said. 
This year, through a GoFundMe campaign and multiple lemonade stands, Alex and her six-year-old sister have raised enough money to donate 108 boxes of food.
According to their GoFundMe page, each donated box will contain nine food items, a 12-15 pound frozen turkey, and a pan to cook a pie.
"Every year it continues to grow."
She hopes that as her daughters grow older they will continue the tradition of giving back, but for now she said it's humbling to see how many people are willing to help others.
"It's kind of humbling to see how many people want to help them and be apart of this. And we're really excited to see where they go with this," Lisa said.
This is such an awesome project. I hope these girls continue this for many years to come.
Share this to thank them for their generosity.
Join our list
Subscribe to our mailing list and get interesting stuff and updates to your email inbox.