Alex Trebek, fighting stage IV pancreatic cancer, makes a video urging people to know the signs
|
Alex Trebek, the legendary longtime host of Jeopardy!, left fans devastated in March when he announced he was diagnosed with stage IV pancreatic cancer, a disease with a frighteningly low survival rate.
But Trebek has remained optimistic, continuing to host the game show as he's undergone chemotherapy.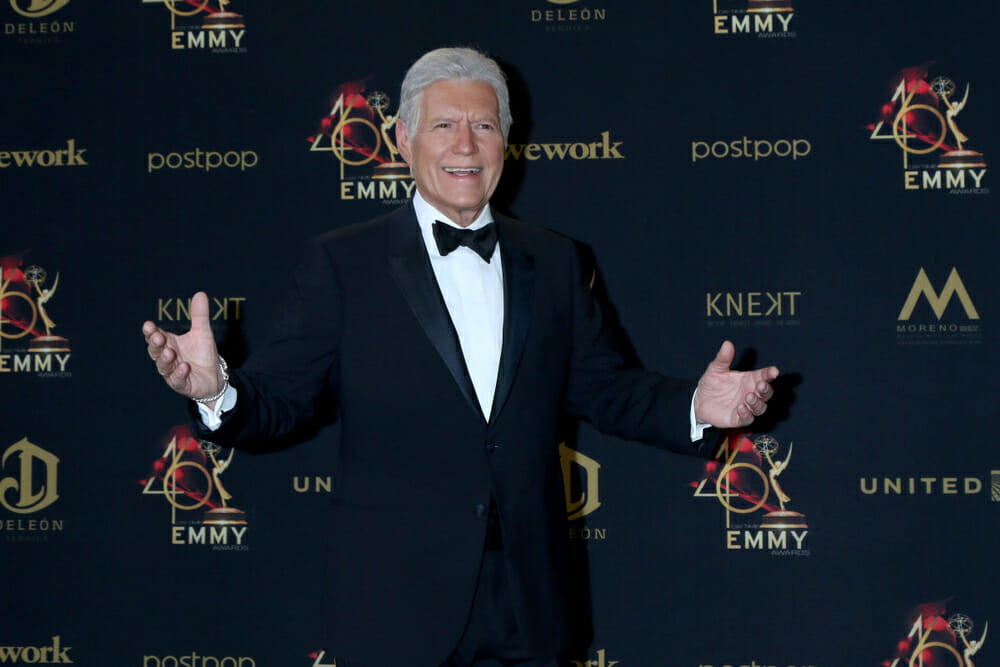 He's had ups and downs along the way—but from the very beginning, he's admirably kept fans in the loop about his progress, offering updates about his health in interviews and announcements.
Because if there's any silver lining in this whole situation, it's that as a high-profile celebrity Trebek has brought further awareness to the disease.
Now, with Pancreatic Cancer Awareness Month coming up in November, Trebek is speaking out, urging people to know the symptoms and keep an eye on their health.
Pancreatic cancer is a particularly deadly form of the disease, in large part because it often goes undetected until it is too late.
Trebek says he wishes he had recognized the signs earlier, and urges people to stay informed and go for early detection. There is currently no screening test for pancreatic cancer, so anyone with the symptoms or predisposition to pancreatic cancer should mention it to their doctor.
"I wish I had known sooner that the persistent stomach pain I experienced before my diagnosis was a symptom of pancreatic cancer," he says in the video. "Other common symptoms can include mid back pain, unexplained weight loss, new onset diabetes and the yellowing of the skin or eyes."
While stage IV cancer hasn't kept Trebek from his hosting duties, it's been a rough year for the TV icon. While undergoing chemo, he suffered from hair loss, loss of appetite and "surges of deep, deep sadness."
While Trebek has also shared positive news about his treatments—he was pleased to announce his tumors had shrunk dramatically and that he was finished with chemotherapy—he had a setback in September when his "numbers went sky high" and he had to return to chemo treatments.
It's a rough disease to fight. "In nearly every country, pancreatic cancer is the only major cancer with a five-year survival rate in the single digits," Trebek says in the video.
The PSA is part of a greater campaign to increase awareness of pancreatic cancer and its signs. November 21st is World Pancreatic Cancer Day, an initiative of the World Pancreatic Cancer Coalition.
"On World Pancreatic Cancer Day, we unite as a global movement to advocate for early detection and better outcomes for pancreatic cancer patients," WPCC chair Julie Fleshman, JD, MBA, said in a press release. "By raising awareness of pancreatic cancer risks and symptoms, we hope that people will be aware and alert their doctor sooner when there is more opportunity for intervention."
You can help spread awareness next month by wearing purple to support the cause.
Early detection is crucial, and it's important to recognize the warning signs of pancreatic cancer.
Let's help this great cause, and help save lives, by passing on this important information! Share this story!
Join our list
Subscribe to our mailing list and get interesting stuff and updates to your email inbox.