Beloved popsicle vendor, whose photo went viral, dies at 92
|
In 2016, the country fell in love with Fidencio Sanchez.
Joel Cervantes Macias spotted the then 89-year-old pushing a popsicle cart around the streets in Chicago and snapped a photo. The photo went viral.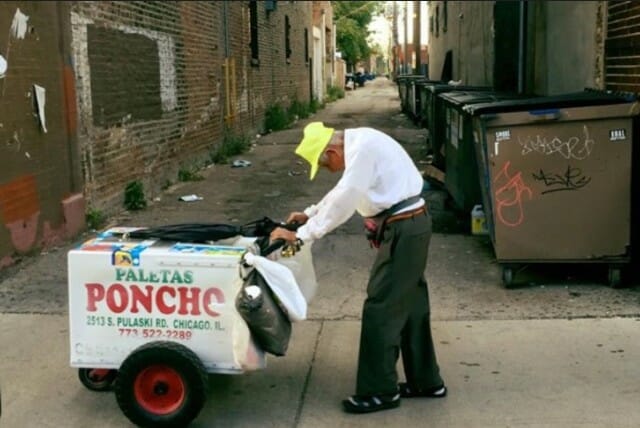 On Wednesday, Cervantes shared some sad news, Sanchez died early that morning. He was 92 years old.
"This morning at 5:53AM Don Fidencio passed away from complications of Sepsis," he wrote on Facebook. "His family asked me to be the one to give the official notice of his passing. The family wants to give thanks to everybody from around the world that made his last three years of life happy and comfortable."
The photo of Sanchez went viral after Cervantes saw the 89-year-old selling popsicles in Chicago's Little Village neighborhood. Cervantes, who was concerned Sanchez was still working and not enjoying retirement, purchased 20 popsicles and gave Sanchez $50.
He posted the photo of Sanchez on Facebook and a friend suggested that he set up a GoFundMe campaign for the 89-year-old and his wife, Eladia. The original goal was $3,000, but the campaign ended up raising $384,000.
The elderly couple's story also struck a cord with people around the world. Sanchez and his wife had recently lost their only daughter and up until recently, his wife had also been selling popsicles, but due to declining health she was unable to continue.
Sanchez told CNN in 2016 that he first started working agricultural jobs when he was 13 years old and has worked "all jobs" ever since.
"And today I keep working because I like it," he said. "And also because I need to work to pay the bills, to pay rent, to buy food, and that's what makes me work."
After Sanchez and his wife received the money, they were able to retire.
"Nothing changed," Cervantes said. "They lived in the same spot, they splurged on Chinese buffets every now and again."
According to the Chicago Tribune, the 92-year-old's health had been declining for the past year and he spent a lot of time in and out of the hospital. On Wednesday his granddaughter, Dulce Sanchez, contacted Cervantes and shared the sad news.
"He was a kind, gentle soul with the heart of a warrior that never gave up," Cervantes said.
Let's make Fidencio Sanchez go viral again. Share this on Facebook to send your condolences to his family.
Join our list
Subscribe to our mailing list and get interesting stuff and updates to your email inbox.