'Let baby die' sign attacks family raising money for son with two rare diseases
|
Randy James Ahlers or RJ as he's called, is a very special baby. He was born with two rare diseases. One is so rare that very little research has been done on it.
The four-month-old was born with Agenesis of the Corpus Callosum and Mosaic Trisomy 9 Syndrome. One impacts his brain, while the other is a rare chromosome disorder.
"To me, he's absolutely perfect," Angela Ahlers, RJ's mother, told WTVG.
For all of his life, RJ has been poked and prodded and undergone a multitude of tests and scans. After several months, the bills started to add up and the Ahlers asked for help from their community.
In October they hosted a fundraiser for RJ where they raised about $4,000.
"I was actually very impressed and touched by the outpouring of love that the Toledo community, our fellow Toledoans, showed us" KC Ahlers, RJ's father, told WTVG.
The money they raised went towards an expensive genetic test, but with RJ battling two extremely rare diseases the family needed to raise even more money for future medical bills.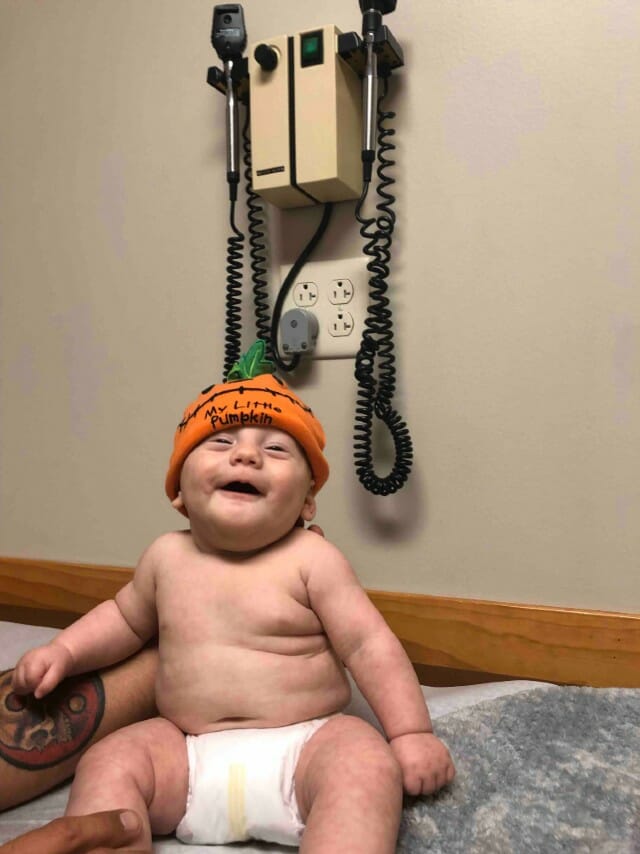 In addition to a GoFundMe, KC placed several signs around their Toledo, Ohio neighborhood explaining RJ's condition and asking for help.
However, recently a new sign appeared next to several of the Ahlers' signs.
"Stop asking for money. Let the baby die. It's called Darwinism. Happy Holidays."
"It shocked me. I mean it really shocked me that somebody would have that kind of cruelty," KC said.
When he noticed the exceptionally rude sign, KC took one down and was glad to see that someone else had already taken the liberty of taking down the others.
Despite the signs, KC wants to preach positivity.
"We want to raise our son to not reciprocate hatred. We want to battle hatred with love. So, we obviously know somebody that did this is disturbed and we hope they get help. But, we're going to keep taking your signs down as we see them because this town doesn't need hatred. This town needs love," KC said.
The family plans on holding another fundraiser for RJ in December.
Since the story broke, the Ahlers have received thousands of dollars in donations. At the time of publication, their GoFundMe raised $33,000.
Who could even think such a horrible thing, let alone create a sign and place it next to one asking for help.
Share this to spread the word about the Ahlers' need for help.
Join our list
Subscribe to our mailing list and get interesting stuff and updates to your email inbox.